Syllabus
Prelims – GOVERNMENT SCHEMES
Context: Recent data shows that over 18.88 lakh new workers enrolled under the Employees' State Insurance Scheme in September 2023.
Background:-
Over nine lakh young employees, up to the age group of 25 years, constitute the majority of new registrations.
About Employees' State Insurance Scheme:-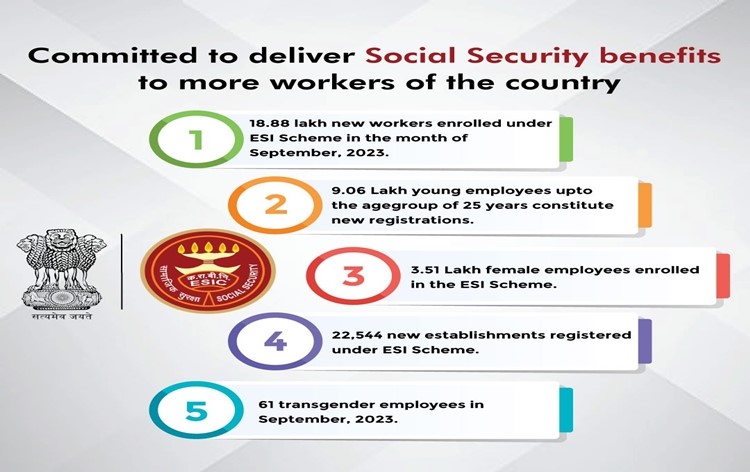 IMAGE SOURCE: AIR
The Employees' State Insurance Scheme (ESI)is an integrated measure of social Insurance embodied in the Employees' State Insurance Act, of 1948. ( ESIC)
Objectives: ESI Scheme is designed to accomplish the task of protecting 'employees' as defined in the Employees' State Insurance Act, 1948 against the impact of incidences of sickness, maternity, disablement and death due to employment injury and to provide medical care to insured persons and their families. (Draft Social Security Code )
Implementing Agency: Employees' State Insurance Corporation.
Applicability of ESI Scheme:-
It applies to factories and other establishments Road Transport, Hotels, Restaurants, Cinemas, Newspaper, Shops, and Educational/Medical Institutions wherein 10 or more persons are employed.
However, in some States threshold limit for coverage of establishments is still
Beneficiary Selection:-
Employees of the aforesaid categories of factories and establishments, drawing wages up to Rs.15,000/- a month, are entitled to social security cover under the ESI Act.
ESI Corporation has also decided to enhance the wage ceiling for coverage of employees under the ESI Act from Rs.15,000/- to Rs.21,000.
Coverage of the ESI Scheme:-
1952: In the beginning, the ESI Scheme was implemented at just two industrial centres in the country, namely Kanpur and Delhi.
The Scheme today, stands implemented at over 830 centres in 31 States and Union Territories.
Funding of ESI Scheme:-
The Employees' State Insurance Scheme (ESI Scheme) is financed by contributions from employers and employees.
The rate of contribution by employer is 3.25% of the wages payable to employees.
The employees' contribution is at the rate of 75% of the wages payable to an employee.
Benefits under the ESI Scheme:-
The main benefits provided under ESI Scheme are:
Sickness Benefit
Disablement Benefit
Dependants' Benefit
Maternity Benefit
Medical Benefit
Other benefits: Confinement Expenses, Funeral Expenses, Vocational Rehabilitation, Physical Rehabilitation, Unemployment Allowance (RGSKY) and Skill Upgradation Training.
MUST READ: Finding Unemployment Benefits
SOURCE: AIR
PREVIOUS YEAR QUESTIONS
Q.1) In India, which one of the following compiles information on industrial disputes, closures, retrenchments, and lay-offs in factories employing workers? (2022)
Central Statistics Office
Department for Promotion of Industry and Internal Trade
Labour Bureau
National Technical Manpower Information System
Q.2)Consider the following statements with reference to India: (2023)
According to the 'Micro, Small and Medium Enterprises Development (MSMED) Act, 2006', 'medium enterprises are those with investments in plant and machinery between (' 15 crores and '25 crore).
All bank loans to Micro, Small and Medium Enterprises qualify under the priority sector.
Which of the statements given above is/are correct?
1 only
2 only
Both 1 and 2
Neither 1 nor 2